Slice of Scythe
play as the 19-year-old cousin of Death (yes, Death with a capital D, the Grim Reaper, etc.) and terrorize suburbia. you need 4 souls and $40 shipping and handling to win and get the hat of your dreams.
made from scratch in 72 hrs for our first ludum dare entry. please rate it here!
team: music & writing (@miyolophone), art (@odiiette), programming & art (cnnmon)
check out the source code here!
murder innocents
shop for groceries
buy a neat hat from Hell
fail to buy a neat hat from Hell
feel emotions (?)
enjoy ♡
Comments
Log in with itch.io to leave a comment.
I'd totally complete this game but i'm not a sinner.
I've completed it. Damn. I have committed a terrible sins.
It stopped working fairly quickly and the controls were hard to use, however the art style is beautiful and im sure if you had more time it could have been improved. Great design regardless
Hello, my name is the Cinnamon Synonym, an indie game Let's Player. I really enjoyed the writing and the humor, but the gameplay was pretty glitchy on my end. (I played the windows version, which I later learned wasn't the latest version). I just wanted to let you know that I am thoroughly looking forward to future content from you!
thank you for the let's play! yeah, the web version is probably your best bet haha. i'm super glad you enjoyed our game (and thank you for this beautiful edit at the end LOL ♡)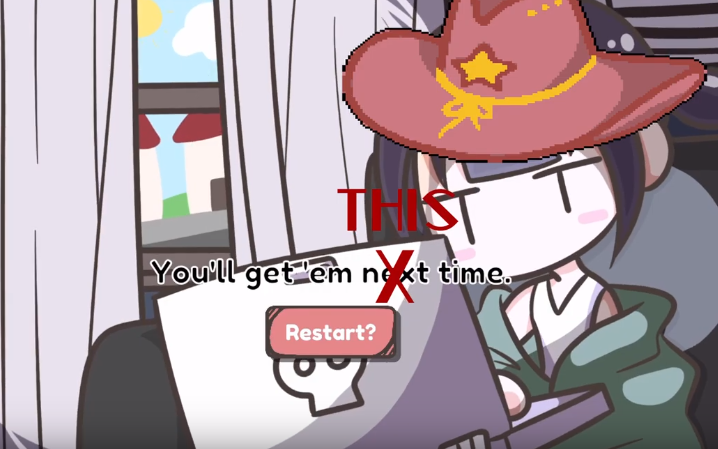 Good morning cnnmon! I've been playing Slice of Scythe, and I was wondering if you'd be up for answering a few short questions to go alongside a small review I'm currently creating? Please let me know asap if you can, thanks!
Why isn't the hat in the win screen?
Wasn't very good.
Nice hat.
Witty, artful, and simplistic. I felt emotions (?) when playing this game.
The characters who get their souls taken remind me a lot of some friends I know. Actually I think I recall them entering Ludum Dare too. Yeah like they put out a tweet saying they were looking for an artist so they didn't have to maso all the work
Wait